Projects
Wisconsin Health Literacy manages periodic programs to improve the health of specific populations.  Using health literacy principles and specially designed materials, recent programs are listed below. 

If you have an idea or are interested in partnering with us on a health literacy initiative, contact:
      Steve Sparks, Health Literacy Director
      (608) 257-1655, Ext. 2
      steve@wisconsinliteracy.org
Let's Talk About Medicines Project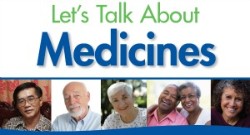 Learn how to more safely and effectively use your medicine
Let's Talk About Medicines - for Refugee and Immigrant Populations 
Tips for Pharmacists Working with Refugee and Immigrant Populations
Medication Label Projects
Potential for Adoption of New Medication Label Standards in Wisconsin
Implementation of New Medication Label Standards in Wisconsin
Take a Survey About Medication Labels
Read the Favorite Label Survey Stories
Other Health Literacy Projects
Improving Maternal Health through Better Health Literacy
Improving Early Dementia Care through Health Literacy
Health Literacy and Consumer Engagement Project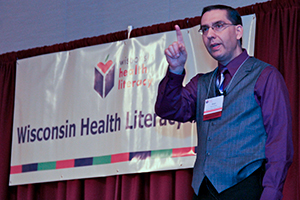 Health Literacy Summit
Over 350 people attended the 2017 Wisconsin Health Literacy Summit, which focused on how improved health literacy can help individuals become more engaged with their health and healthcare.

An additional 80 individuals attended the Medication Label Summit centering on how improving prescription drug labels can help patient understanding. Visit our Summit page for more information.